Using SMS text messaging to market to existing and new customers alike, if used correctly can be a cost effective high ROI method of direct marketing. Used inappropriately, it can do more harm than  good.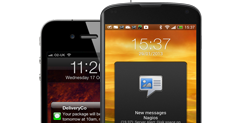 90 percent of all texts are read within 3 minutes (almost 100 percent are read eventually).
Marketing text messages have an open rate of 97 percent, while email is around 10 percent.
(Sources not available)
While we are not suggesting that text messaging is the only marketing channel you use, as it's widely know that a mix of mediums depending on target audience and content work best, rates like this can't be sniffed at. However, beware there many pitfalls that you'll need to avoid to be successful…
Inappropriate content – "Dear Mr Jones, we'd like to invite you to our ladies only event…", a great way to make your customer feel special! Make sure you tailor your message content to the recipients.
Non-personalised content – "Hey there customer, we remember you… honest" incorporating your customer name at the very least, rather than a generic message will engage with the recipient considerably better.
Too many discount offers – 50% off this, buy 2 get 3, sale, sale, sale… while these 'special' offers can work, do it too often and it will devalue your brand.
Why not send some bite size tips relating to your service or product? A garden centre could send tips to remind the correct time to plant seeds; An accountant could send reminders when tax returns need to be completed; A healthcare company could send a reminder to wear sunscreen during the summer… the list and ideas are endless.
Treat your customers not just as a sales prospect to build their brand loyalty with you.
It's a two way street – don't just talk 'at' your customers, why not engage with them? Using short codes or virtual numbers you can create votes and polls. or perhaps run a short two or three question survey after receiving a service from you… good or bad, their response could be extremely valuable to you!
Inappropriate sending time – "Thanks for your purchase, please come back again soon" – send time 02:30. Zzzzzzz, not likely anymore.
Not opting out number – Nothing will aggravate a recipient more if their opt out request is seemingly ignored. Make sure you have a process in place to remove numbers from your contact list, and preferably upon opting out of a campaign send the recipient a confirmation SMS.
No opt out method – As with the above, having no facility to opt out will not only aggravate the recipient, but may fall foul of the law and is certainly not best practice. A simple "Text NOINFO to 84101 to stop" or similar is all that you need, and as above a confirmation SMS text message is preferred.
Some people just don't want to receive marketing SMS. Don't worry, it doesn't mean that they don't want to be your customer anymore.
Make sure your opt out method is quick, easy and accessible – the industry standard is via a short code or virtual number, having to send an email or call you does not cut the mustard!
Too many messages – Turn a valued customer in to an annoyed ex-customer with message bombardment. Finding the right balance can be tricky, depending on the service or product you offer it will vary. A takeaway might send out their weekend offer every Friday, whereas a garden centre may only send once a month.
Not identifying who you are – You know who you are sending to, but do they know who they are receiving from? Don't assume the recipient remembers who you are, spell it out and why you are contacting them!
Messages too long – A standard single part message is 160 characters, although you 'can' send longer messages, keep it short and simple! Got more you want to say? Why not include a shortened URL linking the recipient to more online content?… links to offers, blog posts, sign-up pages etc.
In short, think about what you are sending, who you are sending to, when you are sending it and "would YOU really want to receive this?".
Happy SMS marketing!