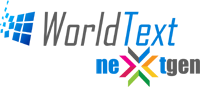 New developments are afoot here at World-Text.com headquarters! We've been working hard to bring you a brand new service that could be just what your looking for!
If you have the need for two way messaging, customer surveys, secure messages, PIN messages on a global scale then the World-Text.com USSD platform may be able to help you.
We are not quite ready to go live just yet, but some of the key highlights are:
'Flash' style messages – not to SMS inbox, but displayed on screen.
Menu style messages – recipient can navigate menus and information designed by you to answer questions or retrieve information.
International coverage (coverage details not confirmed yet).
Low cost messaging – recipient pays nothing to interact with menus.
Secure – messages not stored, only sent over 'live' connection.
Perfect for PIN delivery, surveys, voting, read once only information etc.
We are still in the development phase, but if you have any further questions please feel free to contact us.