Failed Deliveries Cost a Fortune
With increasing costs of fuel and other related areas, the cost of first time parcel failed delivery and the subsequent re-delivery to retailers and parcel delivery / courier companies 'costs £1 billion a year' according to a report from IMRG entitled Valuing Home Delivery.
Improving first-time, on-time delivery is important for not only reducing immediate costs, but also for driving further sales by improving customer perception.
You Were Out (Even When you Weren't)
How many times have you got home to that "We're sorry, but you were out" card on the doormat? Worse, how many times have you heard the "Sorry you were out" card coming through the door whilst you were in?!  Frustrating isn't it? Why wasn't it communicated to me that I should be in that day, or better still why wasn't I given an option for alternative delivery destinations (neighbour etc.)?
Talking of customer perception, is it really so hard to advise the customer what's going on?  The supermarkets seem to have cottoned on to evening deliveries and small time slots.  Why then do I need to take half a day off work (often more than once as they don't show on the first day) to get a table or washing machine delivered?
How to Fix?  Send a Text!
How user friendly would it be to have an incoming text message the day before, which you could reply to, informing you your delivery is expected?  Then another next day when the package is expected to arrive in an hour?
Most delivery vans are GPS tracked and routed with clever software these days so why on earth can't they keep us posted of progress?  A simple couple of texts could keep hundreds of people daily from needing to take time off work.  They'd also feel a damn sight more charitable toward the supplier of their parcel and the delivery company!
So often things like these don't get communicated or asked in the first place. Perhaps the problem is in the method of communication?
Your Package Will be Delivered Between 8am and 5pm
So what if you have a job?!  Many times you'll get an email confirming your order, but how many of us actually read the small print… Looking at one I have just received, right at the very bottom (past what would be visible by default), there is some small text asking me to call an 0870 number, quote some reference number of 457CTvhy655/231GHH between the hours of 09:00 – 17:00, only during a full moon phase. Then you get to drive miles to some industrial estate in the middle of nowhere to collect the parcel.  Not quite sure who this is to benefit, surely it's both of us, why so difficult then?
Last week I was having a table and chairs delivered from a large national retailer, I also happen to know they even have a warehouse that the furniture deliveries are operated from for the local area. So when they gave me a delivery window of seven hours, it was somewhat surprising. Also, upon calling them to be greeted by an automated message saying, "they can't be more accurate than the seven hours" says to me they know there is a problem!
While better communication alone won't help the latter, surely use of modern technology combined with better communication would go a long way.
In short, this problem which has probably affected all of us, could be fixed in minutes!
What are your options?
Email
Pro – Cheap, quick, lots can be communicated
Con – Easily missed, can end up in spam/junk folder, too much information can be included.
Telephone
Pro – Personal touch, lots can be communicated
Con – Can be difficult to get answer, labour intensive, expensive, can be viewed as intrusive.
SMS
Pro – Cheap, quick, two-way possible, very high read rate, quick response, if you're alive you probably have your phone with you.
Con – ???
Using SMS as an example (for obvious reasons…), as soon as a delivery has been scheduled, why not send me a text message confirming the details?
How to Do It Properly!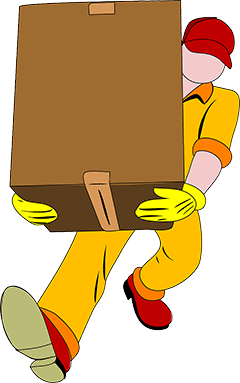 Better still, why not do that using a two-way virtual SMS numbers so that if that's not suitable, I can reply and tell you, maybe even give alternative delivery options such as 'leave with neighbour'.
Sound all too simple? Well it is really!
You could even integrate all this with your existing CRM / logistics systems using a dedicated HTTP REST API to make it super doper clever! Or if you want to keep things really simple you could even do it all with emails that get converted in to SMS and SMS get converted in to emails!
Go on, why not make a customers day (and make more profit) and use two-way SMS…