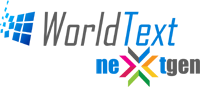 Work on the World Text Next Generation Interface has started!
We've been working hard and listening to what you've been telling us you wanted from your SMS Marketing software, and are pleased to announce the World Text Next Generation Interface.
A fully featured cloud based interface allowing you to manage your SMS marketing database, design campaigns, schedule sends and much more, all online with the need for dedicated computer installed software.
How much will access cost me I hear you ask… nothing at all, it will be free to use for all our customers, you will only pay for the messages you send!
This service will be available for use on a white label basis, which is ideal for reselling the World Text services under your own brand. Perfect for marketing companies who do not wish to have the expense of setting up their own SMSC / gateway.
The launch for the first phase of the next gen platform is scheduled for Q1 2012, with subsequent phased launch of additional modules.
Contact us for more information!